Press release – embargoed till 6am July 3
A WASTED OPPORTUNITY – new report promises paradigm shift
Major change is being mooted to the way New Zealanders pay for the waste they dump.
An independent report, released today, advocates a raft of changes to the government's compulsory disposal waste levy in order to significantly slash waste and more than double recycling rates while creating 9000 new jobs.
"This plan they're outlining is a game-changer," Community Recycling Network chairman Marty Hoffart says of the proposals by report author Eunomia Research and Consulting.
"We're creating 15.5 million tonnes of waste every year and dumping more than 70% in landfills. This report proposes a paradigm shift rather than tinkering around the edges of our mammoth waste problem."
Mr Hoffart says New Zealand's current waste levy of $10 per tonne is probably the lowest in the world and a fraction of what's charged in the United Kingdom, Europe, Australia and the United States. It certainly fails to cover the economic and environmental costs of dealing with waste.
"They've called this report 'A Wasted Opportunity', and they're right. If we ramped that levy up to where it should be, we'd reap massive economic benefits of something like $500 million per year and raise recycling rates from 28% to 60%."
The report was commissioned by a group of 16 public and private sector organisations from throughout New Zealand, including Auckland Council and environmental sector representatives.
Mr Hoffart said the proposals made both economic and environmental sense.
"If we keep producing waste at our current rate, this country is in serious trouble. This report shows us what we have to do to reduce waste and improve recycling rates, so all we need now is political leadership to make it happen."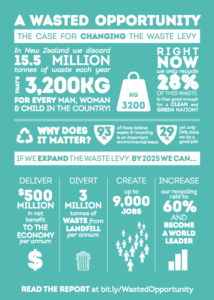 For more information, please contact:
Marty Hoffart, Community Recycling Network chairman
027 277 0811, marty@wastewatchers.co.nz
The summary of A Wasted Opportunity can be read here: http://bit.ly/WastedOpportunity
A high-resolution infographic summarising the key findings can be downloaded here: http://bit.ly/WastedOpportunityInfographic
About the Waste Disposal Levy: The levy is $10 per tonne (excluding GST) on all waste sent to landfill. The levy was introduced under the Waste Minimisation Act 2008. Disposal facility operators must pay the levy based on the weight of material disposed of at their facility. However, they may pass this cost on to the waste producer such as households and businesses.