Annual Hui
Hui 2016: Strengthening Communities
Energy, Resource Recovery, Environment
19-21 September 2016  |  Te Mahurehure Marae, Auckland
Register here!
Download the Participants Info Pack here.
This joint hui provides a space for members and stakeholders of Environment Hubs Aotearoa (EHA), The Community Energy Network (CEN) and the Community Recycling Network (CRN) to meet to discuss how we can improve our impact to make our communities stronger. This is the first time we will be running the Strengthening Communities Hui in September 2016!
The event will bring community organisations from similar sectors and backgrounds together to develop innovative ways of maximising current resources and adopting new strategies for engaging with our communities and working with current/potential funders.
We'll hear from practitioners who are helping their communities achieve solutions to some tough problems, as well as leading local and international thought leaders. We'll be together for three days, which will include keynotes, case studies, workshops, dialogue and networking and tours.
Expect to be connecting with people from across a range of sectors: established and emerging community recyclers, healthy home assessors and installers, community based sustainability experts, representatives from government agencies, local government and other community based organisations.
WHAT'S INCLUDED IN THE TICKET PRICE?
Full hui attendance includes on-site marae accommodation Sunday,  Monday and Tuesday nights; all meals Monday and Tuesday; breakfast and morning tea on Wednesday; access to all sessions / tours (as applicable).
Day attendance includes morning tea, lunch, and afternoon tea; Monday speakers sessions; and access to the breakout sessions of attendees choice.
Please note: some sessions will run concurrently with either an energy / healthy homes, resource recovery or general environmental focus. You will be asked upon registration on Sunday night / Monday morning to select your preferred sessions for arrangement of seating. Some Tuesday sessions may be closed – i.e. open to members of the host organisation only – these will be identified on the programme.
Registration can be completed through our page on Lil' Regie, which you can access here. Early Bird rates end on the 19th of August.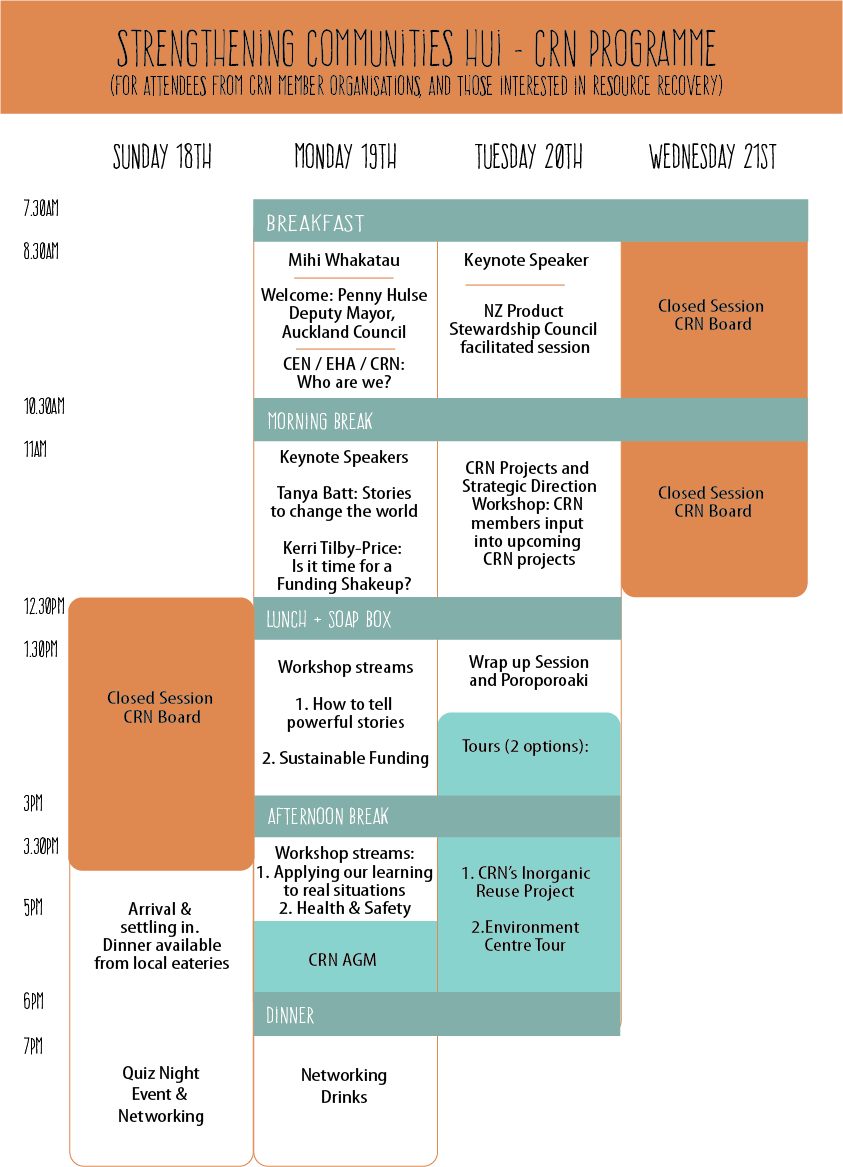 ---
A massive thank you to the generous sponsors of this years event